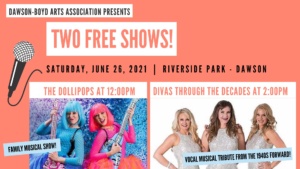 We are excited to share our line up for Riverfest Weekend in Dawson – and the good news is that both shows are FREE!
At 12:00pm [NOON] this Saturday, June 26, The Dollipops will perform at Riverside Park. Bring the kids for this family show with music and laughs!
At 2:00pm, Divas through the Decades will take the stage and perform a musical tribute to some of the most influential female vocalists in American pop music. Music, choreography, costumes & high energy will make this show a highlight of your weekend!
Bring a chair and enjoy these shows in the shade of the trees at Riverside Park – at the south end of Main Street in Dawson.
Thanks to our event sponsor – Dawson Co-op Credit Union!
Spread the word – fun for all ages!