How to Order Tickets
Please see the seating chart below.
By Phone:
Call 320-312-2311 to request tickets. Please have your credit card ready when you call. We accept VISA, MasterCard and DISCOVER. Voicemail is available 24 hours a day. If the box office phone is busy when you call, it is best to leave a message and someone will call you back within a day. The box office is staffed one week to ten days prior to a reserved seating performance from 9am-noon on weekdays and at least one hour prior to each performance.
By Email:
Use the "Contact Us" tab of this website to send us your name, address and phone number and in the comments section, request the number of tickets you need. You will receive a phone call or email to verify payment method.
In Person:
Stop by the box office at 601 9th Street on the west side of the Dawson-Boyd School campus from 9am-noon weekday mornings in the weekdays prior to a performance. If you are coming from out of town, please call first to make sure we're open. In the case of inclement weather, we follow the school's procedures, so if school is closed, our box office will likely not be open. The box office and auditorium are part of the Dawson-Boyd School facility.
By Mail:
Make your check for tickets payable to DBAA and mail to:
DBAA, PO Box 434, Dawson MN 56232. Include a self-addressed stamped envelope if you wish to have tickets mailed to you. Otherwise, your tickets will be held at the box office to be picked up on the evening of the performance.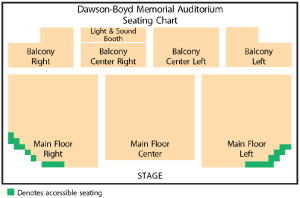 Dawson-Boyd Arts Association
601 9th Street
PO Box 434
Dawson MN 56232
Box office phone: 320-312-2311
Memorial Auditorium is a wheelchair accessible facility and has hearing assistive devices available upon request.