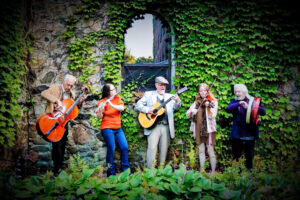 Ring of Kerry is a bursting-with-energy Irish music group that captures the hearts of listeners. The group takes its name from a beautiful craggy drive in southwestern County Kerry, Ireland. Its Celtic music, however, is played with a heart much closer to its American home. Ring of Kerry will be joined by Celtic dancers for this highly engaging performance celebrating traditional roots, modern ideas and original work.
Friday, March 15th, 2024
7:00pm *Additional performances for Dawson-Boyd students
$20 Adults  $5 Students
Get tickets
Special note: Light food and beverages available for purchase prior to the performance.
Location: Memorial Auditorium
Event sponsor: Peggy Crosby & Dave Pederson