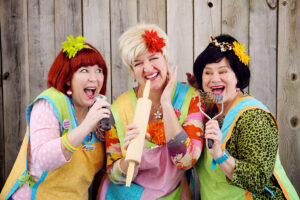 The Looney Lutherans are a trio of wacky gals who use music, comedy and some help from the audience to share their age-old wisdom for living a long and lively life, the Lutheran way. Each of these talented women has performed for years on stages across the country, but they have been appearing together as the Looney Lutherans since 2006. Their show is comedic and family friendly – and best of all, you don't have to be Lutheran to love it!
Saturday, April 6th, 2024
7:00pm
$20 Adults  $5 Students
Get tickets
Special note: Stay tuned for details on a "special experience" with this show!
Location: Memorial Auditorium
Event sponsor: Dick Berglund, Kluver Law & Mediation Center PLLC, and Subway-Gary & Cindy Hendrickx