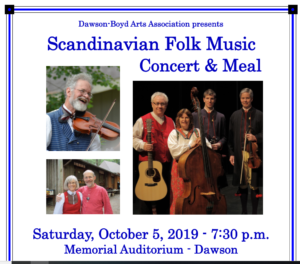 Dawson-Boyd Arts Association announces its opening concert of the 19th performing arts season at Memorial Auditorium in Dawson – a Scandinavian Folk Music concert during Meander Weekend on Saturday, October 5 at 7:30pm. Featured performers will be Paul and Marikay Dahlin, Art Bjorngjeld, Char and Bruce Bostrom and Ross Sutter. These musicians will present a variety of Scandinavian folk songs, tunes and dances. Ross Sutter is a familiar performer and folk music educator in the west-central Minnesota community playing guitar, button accordion and dulcimer; Art Bjorngjeld plays button accordion and fiddle; Char Bostrom is on fiddle; Bruce Bostrom is on moon harp and various percussion instruments.
Also performing will be Paul Dahlin of Minneapolis, along with his wife Marikay. Paul Dahlin is a premiere Swedish-style fiddler, educator and founder of the American Swedish Institute's Spelmanslag, or "fiddlers' team." He is devoted to the study, preservation and performance of Swedish traditional music.
Prior to the concert, a Swedish meatball meal will be served beginning at 6:00pm in the School Commons. Menu includes: meatballs, mashed potatoes & gravy, salads, Knackebrod, pickled herring, lingon preserves, coffee, beverage and Scandinavian almond cake. Meal tickets are $15 per person. Order Online: Click here!