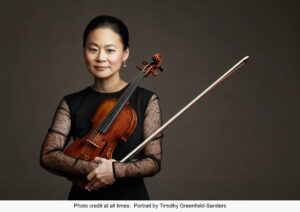 About Midori
Midori is a visionary artist, activist and educator who explores and builds connections between music and the human experience and breaks with traditional boundaries which makes her one of the most outstanding violinists of our time.
As a leading concert violinist for over 35 years, Midori regularly transfixes audiences around the world, bringing together graceful precision and intimate expression. She has performed with, among others, the London, Chicago, and San Francisco Symphony Orchestras, the Sinfonieorchester des Bayerischen Rundfunks, the Berlin and Vienna Philharmonics, and the Mahler Chamber Orchestra. She has collaborated with such outstanding musicians as Claudio Abbado, Emanuel Ax, Leonard Bernstein, Constantinos Carydis, Christoph Eschenbach, Daniel Harding, Paavo Järvi, Mariss Jansons, Yo-Yo Ma, Susanna Mälkki, Joana Mallwitz, Antonello Manacorda, Zubin Mehta, Donald Runnicles, Jean-Yves Thibaudet, and Omer Meir Wellber.
Midori's latest recording with the Festival Strings Lucerne of Beethoven's Violin Concerto and two Romances was released in October 2020 by Warner Classics. Her diverse discography by Sony Cassical, Ondine and Onyx includes recordings of Bloch, Janáček and Shostakovich and a Grammy Award-winning recording of Hindemith's Violin Concerto with Christoph Eschenbach conducting the NDR Symphony Orchestra as well as Bach's Sonatas and Partitas for Solo Violin filmed at Köthen Castle, which was recorded also for DVD (Accentus).
Midori is deeply committed to furthering humanitarian and educational goals. She has founded and manages several non-profit organizations, including Midori & Friends, which provides music programs for New York City youth and communities, and MUSIC SHARING, a Japan-based foundation that brings both western classical and Japanese music traditions into young lives by presenting programs in schools, institutions, and hospitals. In recognition of such commitments, she serves as a United Nations Messenger of Peace.
Midori was born in Osaka in 1971 and began her violin studies with her mother, Setsu Goto at an early age. In 1982, conductor Zubin Mehta invited the then 11-year-old Midori to perform with the New York Philharmonic in the orchestra's annual New Year's Eve concert, where the foundation was laid for her following career.
Midori plays the 1734 Guarnerius del Gesù 'ex-Huberman'. She uses four bows – two by Dominique Peccatte, one by François Peccatte and one by Paul Siefried.
About Ieva Jokubaviciute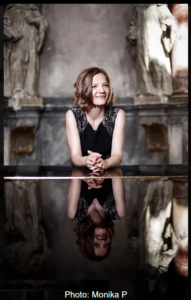 Lithuanian pianist Ieva Jokubaviciute's powerfully and intricately crafted performances have earned her critical acclaim throughout North America and Europe. Her ability to communicate the essential substance of a work has led critics to describe her as possessing 'razor-sharp intelligence and wit' and 'subtle, complex, almost impossibly detailed and riveting in every way' (The Washington Post) and as 'an artist of commanding technique, refined temperament and persuasive insight.'(The New York Times). In 2006, she was honored as a recipient of a Borletti-Buitoni Trust Fellowship.
Labor Records released Ieva's debut recording in 2010 to critical international acclaim, which resulted in recitals in New York, Chicago, Philadelphia, Baltimore, DC, Vilnius, and Toulouse.   She made her orchestral debuts with the Chicago Symphony; in Rio de Janeiro, Brazil; with the American Youth Philharmonic in 2016, and in February 2017, Ieva was the soloist with the Orquesta Filarmónica de Montevideo in Uruguay.  Her piano trio—Trio Cavatina—won the 2009 Naumburg International Chamber Music Competition.  Ieva's latest recording:  Returning Paths:  solo piano works by Janacek and Suk was also released to critical acclaim in 2014.
In the fall of 2016, Ieva began a collaboration with the violinist Midori, with recitals in Canada, at the Cartagena International Music Festival in Colombia, and in Germany and Austria.  Since, they have given recitals in Japan, Germany, Austria, Poland, Peru, Colombia, Mexico, India, and Sri Lanka.  .
Jokubaviciute's latest piano solo recording Northscapes will be released in 2021.  This recording project weaves works, written within the last decade by composers from the Nordic and Baltic countries of Europe, into a tapestry of soundscapes that echo the reverberations between landscape, sound, and the imagination.  This recording will include works by:  Kaja Saariaho, Anna Thorvaldsdottir, Raminta Šerkšnyte, Lasse Thoresen, Bent Sorensen, and Pēteris Vasks.
A much sought after chamber musician and collaborator, Ieva regularly tours and appears at international music festivals including: Marlboro; Ravinia; Bard; Caramoor; Chesapeake Chamber Music; Prussia Cove in Cornwall, England; and Festival de la musique de chambre at La Lointaine in France. She has participated in the Schleswig-Holstein Festival in Lubeck, Germany; the Katrina Chamber Music Festival, Aland Islands, Finland; the Oulunsalo Chamber Music Festival in Oulunsalo, Finland; the Joaquin Turina Chamber Music Festival in Seville, Spain; and Music in the Vineyards in Napa Valley, CA; the Lake Champlain Chamber Music Festival in Burlington, VT; Salt Bay Chamber Music Festival in Maine, and the Four Seasons Chamber Music Festival at East Carolina University.
Earning degrees from the Curtis Institute of Music in Philadelphia and from Mannes College of Music in New York City, her principal teachers have been Seymour Lipkin and Richard Goode.  Currently, Ieva is Associate Professor of the Practice of Piano at Duke University in Durham, NC having previously been on the faculty at Shenandoah Conservatory in Winchester, VA. Ieva is also on the faculty at the Kneisel Hall Chamber Music School and Festival in Blue Hill, ME and has established herself as a mentoring artist at the Marlboro Music Festival in Marlboro, VT.
About Partners in Performance
Partners in Performance (PiP), founded by the violinist Midori in 2003, is a non-profit organization that co-presents chamber music concerts with the goal of stimulating interest in classical music in smaller communities without the financial resources of major urban centers. Since its inception, PiP has co-sponsored numerous chamber music programs with more than 30 concert presenters all around the country.