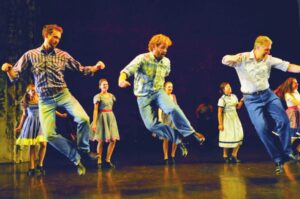 Sat., Sept. 30, 2017 – 7:30pm
$15 Adults $5 Students
Meander Weekend Concert
Get tickets
Wild Goose Chase Cloggers is keeping traditional Appalachian clogging alive with their concerts and we're pleased to have them bring lively dance to Dawson. The troupe includes energetic dancers and music of Chicken Sedan. It's a great show for all ages. So while you're in Western Minnesota for the annual Meander visual art studio tour, make time for evening entertainment with the Wild Goose Chase Cloggers!
We guarantee it will get your toe tapping!
Sponsors:
Helen Haverberg
Thrivent Financial James Heinrich
Dawson Area Chamber