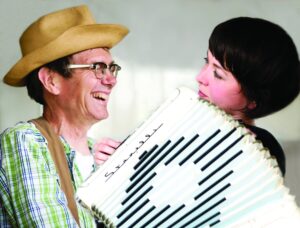 Saturday, February 4, 2017
7:30 p.m.
Seating: Open Seating
Ticket on sale: February 1, 2017
Author and storyteller Kevin Kling is joined by accordionista and singer Simone Perrin to bring us their newly-debuted show "Kindly Relying on the Strangeness of Others."  These charming performers are both tender and hilarious.
Kevin Kling and Simone Perrin will perform for the Dawson-Boyd High School student on Friday, February 3.
Event Sponsors:     Ralph & Sue Gerbig, Johnson Memorial Health Services