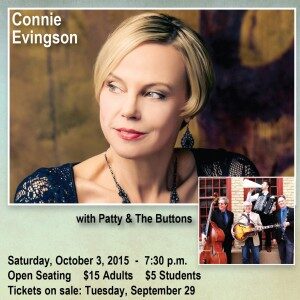 Saturday October 3, 2015 – 7:30 PM
Open Seating $15 Adults $5 Students
Tickets on sale Tuesday September 29
The distinctive sounds of gypsy jazz will transport you to the hot club jazz scene of Paris in the 1930s made famous by Django Reinhardt & Stephane Grapelli. Vocalist Connie Evingson, along with Patty & The Buttons, will open our 15th season in style!
Annual Silent Auction in lobby!
Watch the website for a complete listing of silent auction donations!
Event Sponsors: Peggy Crosby & David Pederson