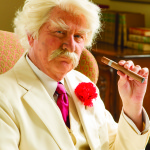 VocalEssence Ensemble Singers and Don Shelby
Sunday, Nov. 16, 2014 7:00 p.m.
$15 Adults $5 Students
Event Sponsor: Minnwest Bank Dawson
The VocalEssence Ensemble Singers and former TV anchor Don Shelby as Mark Twain celebrate life on the Mississippi. Take a musical journey through the past and present—choral masterpieces, favorite folksongs, traditional spirituals, and Americana—all paired with the immortal words of Mark Twain.
Reserved Seating
This performance and outreach activities are possible through an Arts Tour grant from the Minnesota State Arts Board. This activity is also funded by a grant from the Dawson Community Foundation, a component fund of the Southwest Initiative Foundation.