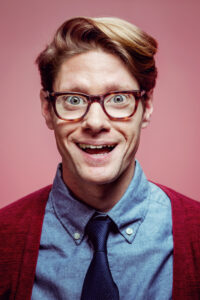 Winterfest Comedy Night
Saturday Feb 2
7:00 pm
Tickets $15 Adults or $5 Students
Pasta Buffet beginning at 6:00pm – $11 per person
Limited seating of 150 for this meal & show
Meals must be purchased by Jan. 30
NEW Location:
Hilltop Bar, Grill & Event Center
712 Oak Street on Hwy 212 – Dawson
Join us for a night of laughs with Tommy Ryman – and have dinner before the show!
Tommy Ryman grew up with a new-age, folksinging mother and a traditional, Lutheran insurance-agent father. This XY equation evidently equals: acclaimed comedian. Ryman has earned the title of Semifinalist on NBC's Last Comic Standing, where judges raved about Tommy saying, "they had never seen anything like him, one of a kind, fantastic!"
Ryman's act is absurdist and clever, masked behind a very likable and innocent demeanor, often thought of as disturbingly adorable. He is a favorite among audiences at top clubs, colleges, and corporate events around the nation, and he is regularly featured on SiriusXM, and iheartradio.
Ryman recently won the title of Best in the Midwest at the prestigious Gilda's Laugh Fest,and voted best comedian in the Twin Cites by City Pages. He was invited to perform at the Great American Comedy Festival at the Johnny Carson Theater.   Ryman's newest album "Having the Time of My Life" hit #2 on the iTunes comedy charts, and he also has a brand new comedy special on Dry Bar Comedy
Sponsors:
Johnson Memorial Health Services
Dawson Chamber